Le Grand Bal d'Italie 2018 : promotion of the Italian culture and Made in Italy abroad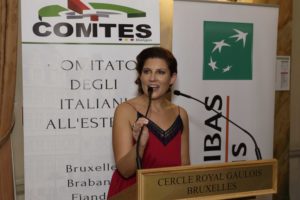 The promotion of the Made in Italy and the Italian culture abroad was the focus of the third edition of the Grand Bal d'Italie, the charity gala promoted by the Comites of Brussels, Brabant and Flanders, organized under the auspices of the Italian Embassy in Belgium, which took place last 10th November at the Cercle Royal Gaulois in Brussels.
Over 400 people of different nationalities took part in the event, which has now become an unmissable annual event, a reference point for the Italian and international community in Belgium. "A moment not only for the promotion of Italian excellences abroad, but also for meeting and enhancing the different cultures that have contributed to the construction of Europe, today increasingly threatened by populist and anti-European movements", commented Raffaele Napolitano, coordinator of the Comites of Belgium.
The event, supported by numerous partners, including BNP Paribas Fortis, Interparking and Afiliatys (network of officials in the European institutions), was aimed at raising funds to support humanitarian and educational projects in Belgium and helping 35 families in need, thanks to a donation of food products offered by the Essse Caffè group.
A 100% Made in Italy gala evening: music interpreted by the Italian Orchestra Bruxelles (directed by mr Angelo Gregorio), a refined dinner with a menu prepared by the Lucan chef Angelo Galasso (micro-restaurant Pane e Olio, Mons), accompanied from a selection of Italian wines (introduced by the sommelier Alma Torretta); at mid-evening, tasting of Bargello ice-cream and Campari drinks.
The event was also an opportunity to remember some famous musicians, with a fashion show animated by La Perla on the notes of Stelvio Cipriani (recently died). A tribute to Lucio Battisti (in the 20th anniversary of his death this year) was made with an exciting double performance by the Belgian champions of Latin dances Giuseppe Dell'aria and Irina Perez Lopez, offered by Lanieri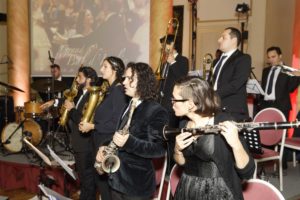 (leader in the men's fashion industry made to measure), with the participation of Come to Milan. "Irina, Spanish, and Giuseppe, son of Sicilian immigrants in Belgium, remind us how immigration is not only a source of economic enrichment for a country, but also cultural, when accompanied by integration", were presented by Benedetta Dentamaro , General Secretary of the Comites and coordinator of the event since 2016.
During the evening, an Alfa Romeo car show curated by Motor Village Belgium and a charity raffle with prizes offered by the most famous Italian fashion and design brands (Kartell, Bulgari, Versace, Piquadro, The Bridge, Benetton, Fratelli Rossetti and others).
The cultural value of the event was recognized by the European Commission, which awarded it the EYCH 2018 label (European Year of Cultural Heritage), and by the Rossini Foundation, which included the event in the calendar of official celebrations of the 150th anniversary of the death of Gioacchino Rossini. The composer was dedicated to the opening of the evening with two choreographies performed on the notes of Valse boiteuse and Gout ladra Overture.
Around midnight was commemorated the centenary of the armistice, national holiday in Belgium, on the notes of 'O surdato nnammurato, Neapolitan song that tells of the soldiers who left the front to fight the First World War, leaving the woman loved.

Le Grand Bal d'Italie à Bruxelles: la valorisation de la culture italienne et du Made in Italy à l'étranger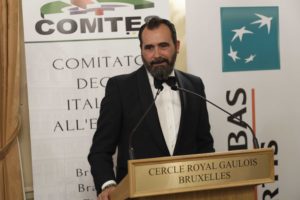 La promotion du Made in Italy et de la culture italienne à l'étranger était au cœur de la troisième édition du Grand Bal d'Italie, le gala de bienfaisance organisé par les Comites de Bruxelles, Brabant et Flandre et organisé sous les auspices de l'Ambassade d'Italie en Belgique, qui s'est deroulé le 10 novembre dernier au Cercle Royal Gaulois à Bruxelles.
Plus de 400 personnes de différentes nationalités ont pris part à cet événement, qui est devenu un rendez-vous annuel incontournable, un point de référence pour la communauté italienne et internationale en Belgique. "Un moment non seulement pour la promotion des excellences italiennes à l'étranger, mais également pour la rencontre et la valorisation des différentes cultures qui ont contribué à la construction de l'Europe, de plus en plus menacée par des mouvements populistes et anti-européens", a déclaré Raffaele Napolitano, coordinateur du Comites Belgique.
L'événement, soutenu par de nombreux partenaires, dont BNP Paribas Fortis, Interparking et Afiliatys (réseau de fonctionnaires des institutions européennes), avait pour objectif la collecte de fonds pour soutenir des projets humanitaires et éducatifs en Belgique et aider 35 familles dans le besoin grâce à un don de produits alimentaires offert par le groupe Essse Caffè.
Une soirée de gala 100% Made in Italy: musique interprétée par l'Orchestre Italien Bruxelles (dirigé par M. Angelo Gregorio), un dîner raffiné avec un menu préparé par le chef lucanais Angelo Galasso (micro-restaurant Pane e Olio, Mons), accompagné par une sélection de vins italiens (présentée par la sommelier Alma Torretta); en milieu de soirée, une dégustation de glaces Bargello et de drinks Campari.
L'événement a également été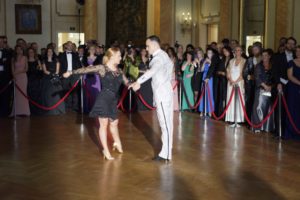 l'occasion de rappeler quelques musiciens célèbres, avec un défilé de mode animé par La Perla sur les notes de Stelvio Cipriani (récemment décédé). Un hommage à Lucio Battisti (qui a célébré son vingtième anniversaire cette année) a été rendu avec une double performance excitante des champions belges de la danse latine Giuseppe Dell'aria et Irina Perez Lopez, proposés par Lanieri (leader du secteur de la mode masculine). sur mesure), avec la participation de Come to Milan. "Irina, espagnole, et Giuseppe, fils d'immigrés siciliens en Belgique, nous rappellent à quel point l'immigration est non seulement une source d'enrichissement économique pour un pays, mais aussi culturelle, lorsqu'elle est accompagnée par l'intégration", ont été présentées par Benedetta Dentamaro , Secrétaire Générale du Comites et coordinatrice de l'événement depuis 2016.
Au cours de la soirée, un salon automobile Alfa Romeo organisé par Motor Village Belgium et un tirage au sort avec des prix offerts par les plus grandes marques italiennes de mode et de design (Kartell, Bulgari, Versace, Piquadro, The Bridge, Benetton, Fratelli Rossetti et autres).
La valeur culturelle de l'événement a été reconnue par la Commission européenne, qui lui a attribué le label EYCH 2018 (Année européenne du patrimoine culturel), et par la Fondation Rossini, qui l'a inscrit au calendrier des célébrations officielles du 150e anniversaire de la mort de Gioacchino Rossini. Le compositeur était dédié à l'ouverture de la soirée avec deux chorégraphies interprétées sur les notes de Valse boiteuse et Gout ladra Overture.
Aux alentours de minuit a été commémoré le centenaire de l'armistice, fête nationale en Belgique, sur les notes de 'O surdato nnammurato, chanson napolitaine qui raconte l'histoire des soldats qui ont quitté le front pour se battre pour la Première Guerre mondiale, laissant la femme aimée.

Le Grand Bal d'Italie a Bruxelles: la valorizzazione della cultura italiana e del Made in Italy all'estero
La promozione del Made in Italy e della cultura italiana all'estero è stata al centro della terza edizione del Grand Bal d'Italie, il galà di beneficenza promosso dal Comites di Bruxelles, Brabante e Fiandre, organizzato sotto l'egida dell'Ambasciata d'Italia in Belgio, che si è tenuto lo scorso 10 novembre al Cercle Royal Gaulois di Bruxelles.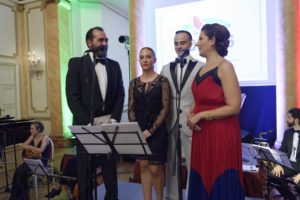 Oltre 400 persone di diverse nazionalità hanno preso parte all'evento, divenuto ormai un appuntamento annuale immancabile, di riferimento per la comunità italiana e internazionale in Belgio. "Un momento non solo di promozione delle eccellenze italiane all'estero, ma anche di incontro e valorizzazione delle differenti culture che hanno contribuito alla costruzione dell'Europa, oggi sempre più minacciata dai movimenti populisti e antieuropeisti", commenta Raffaele Napolitano, coordinatore dei Comites del Belgio.
La manifestazione, sostenuta da numerosi partner, tra cui BNP Paribas Fortis, Interparking e Afiliatys (rete dei funzionari nelle istituzioni europee), ha avuto lo scopo di raccogliere fondi per sostenere progetti umanitari ed educativi in Belgio e aiutare 35 famiglie in difficoltà, grazie ad una donazione di prodotti alimentari offerta dal gruppo Essse Caffè.
Una serata di gala 100% Made in Italy: la musica interpretata dall'Orchestra Italiana Bruxelles (diretta dal m° Angelo Gregorio), una raffinata cena con menu curato dallo chef lucano Angelo Galasso (micro-ristorante Pane e Olio, Mons), accompagnato da una selezione di vini italiani (introdotti dal sommelier Alma Torretta); a metà serata, degustazione di gelato Bargello e drinks Campari.
La manifestazione è stata anche l'occasione di ricordare alcuni celebri musicisti, con un fashion show animato da La Perla sulle note di Stelvio Cipriani (recentemente scomparso). Un omaggio a Lucio Battisti (di cui ricorre quest'anno il ventennale della morte) è stato realizzato con un'emozionante doppia esibizione dei campioni belgi di balli latini Giuseppe Dell'aria e Irina Perez Lopez, offerta da Lanieri (leader del settore moda uomo su misura), con la partecipazione di Come to Milan. "Irina, spagnola, e Giuseppe, figlio di immigrati siciliani in Belgio, ci ricordano come l'immigrazione non sia solo fonte di arricchimento economico per un Paese, ma anche culturale, quando accompagnata dall'integrazione", così sono stati presentati da Benedetta Dentamaro, segretario generale del Comites e coordinatrice della manifestazione dal 2016.
Durante la serata, un'esposizione di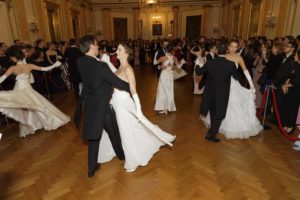 auto Alfa Romeo curata da Motor Village Belgio e una lotteria di beneficenza con premi offerti dai più noti marchi della moda e design italiano (Kartell, Bulgari, Versace, Piquadro, The Bridge, Benetton, Fratelli Rossetti e altri).
Il valore culturale dell'evento è stato riconosciuto dalla Commissione Europea, che le ha attribuito il label EYCH 2018 (Anno europeo del patrimonio culturale), e dalla Fondazione Rossini, che ha inserito l'evento nel calendario delle celebrazioni ufficiali del 150° anniversario della morte di Gioacchino Rossini. Al compositore è stata dedicata l'apertura della serata con due coreografie eseguite sulle note della Valse boiteuse e dell'Ouverture della Gazza ladra.
Intorno alla mezzanotte è stato commemorato il centenario dell'armistizio, festa nazionale in Belgio, sulle note di 'O surdato nnammurato, canzone napoletana che narra dei soldati che partivano al fronte per combattere la prima guerra mondiale, lasciando la donna amata.